State-of-the-art manufacturing facilities and our expertise guarantee a reliable, high-quality and on schedule execution of all projects.
Our manufacturing capabilities include sawing, milling, bending, cutting, cladding, mechanical processing and welding. Inspection, measuring and test equipment as well as the relevant licences are decisive for maintaining our high standards of quality.
All components are manufactured in our capacious manufacturing plant in the St. Gallen Rhine Valley in Switzerland.
Sandblasting and Grinding System
All pipes and membrane walls are sandblasted with our fully automated sandblasting and grinding plant sandgestrahlt before further processing. Sandblasting is the foundation for a non-porous and optimal adhering weld.
Continuous-pass sandblasting sytem
Welding Robots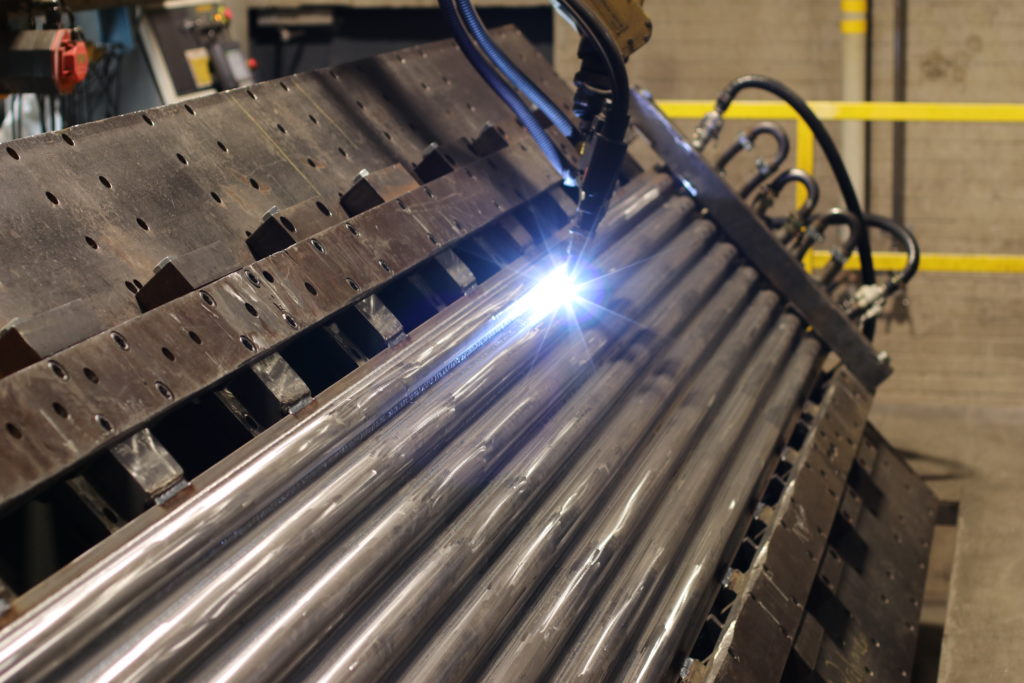 Zur Beschichtung von Rohrwänden im CMT-Verfahren
Our two welding robots are used for coating membrane walls with Alloy 625/685 through CMT (Cold Metal Transfer) treatment.
We are able to  process panels with up to 12 m length and 1.4 m width (16 pipes).
The welding in downhand position results in a smooth and neat surface of high quality.
Pipe Weld-on Machines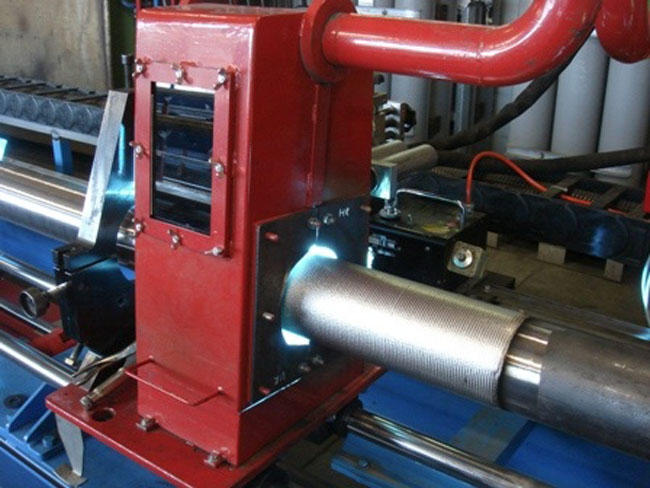 Weld Cladding Robots
With our three autonomously build pipe cladding machines, we are able to put weld cladding on single pipes with up to  ø 101 mm diameter and up to 8 m length through CMT (Cold Metal Transfer) technology.
Submerged-arc Welding Machine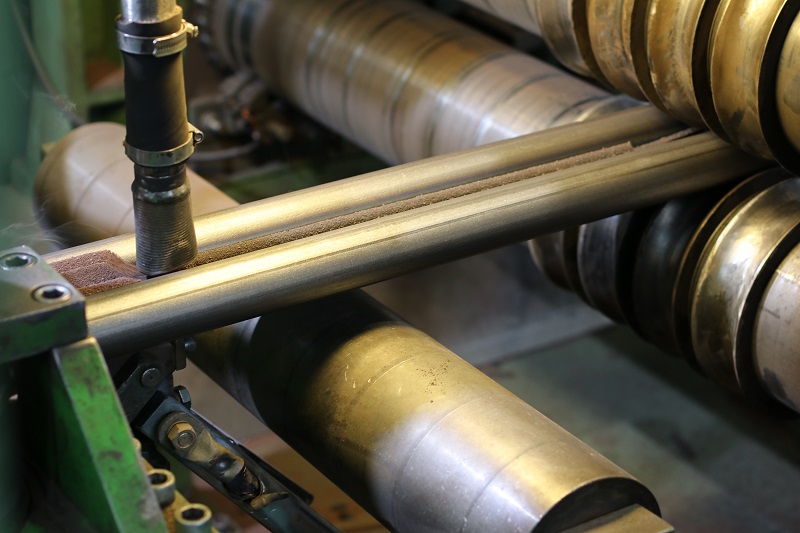 Sumerged-arc Welding (SAW) machine for welding together membrane walls
Auf der UP-Membranwandschweissanlage können Rohre mit einem Aussendurchmesser von ø 33.7 bis ø 76.0 mm zu Paneelen bis zu 1.5 m Breite und 13.5 m Länge zu Paneelen zusammengeschweisst werden.
Laser Machine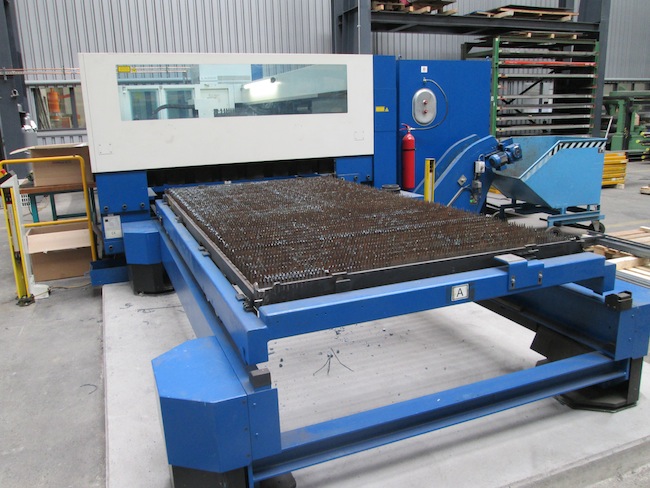 Laser Trumpf L 3050 5000 W
CO2-Laser, hochfrequenzangeregt
Verfahrensbereich:
3000 x 1500 x 100 mm
Laserleistung:
5000 Watt
Werkstoffgruppen:
Normalstahl bis 25 mm Stärke
Edelstahl bis 20 mm Stärke
Aluminium bis 12 mm Stärke
Verfahrgeschwindigkeit: 
200/300 m/min
Schneidköpfe:
3,75" / 5" / 7,5" / 9,0"
Ob ein Teil oder 1000 – wir lasern es für Sie. Ihren Wünschen sind keine Grenzen gesetzt.
Mit unserer Laserschneidemaschine erledigen wir Ihre Kleinaufträge.
Unser qualifiziertes Team realisiert schnell und kompetent Ihre individuellen Anforderungen. Frei nach Ihrer Zeichnung oder Skizze.
Natürlich bieten wir auch entsprechende Weiterverarbeitung an.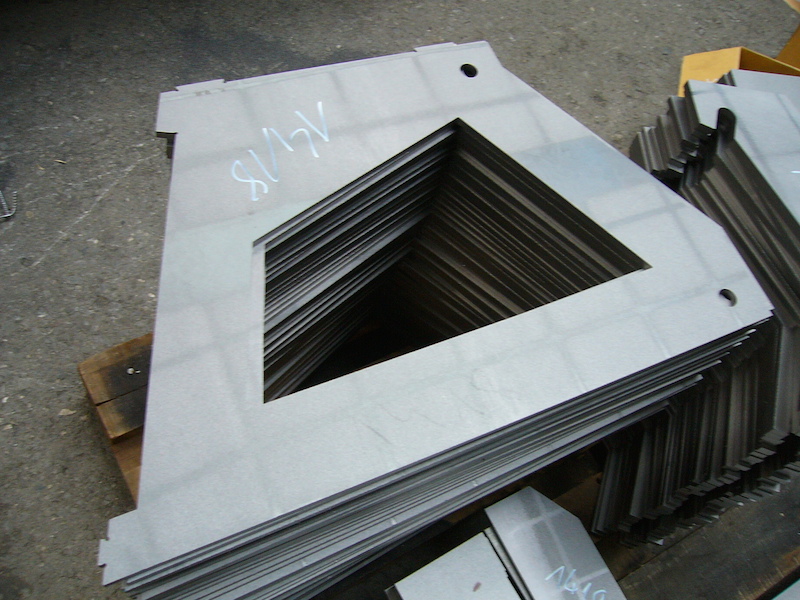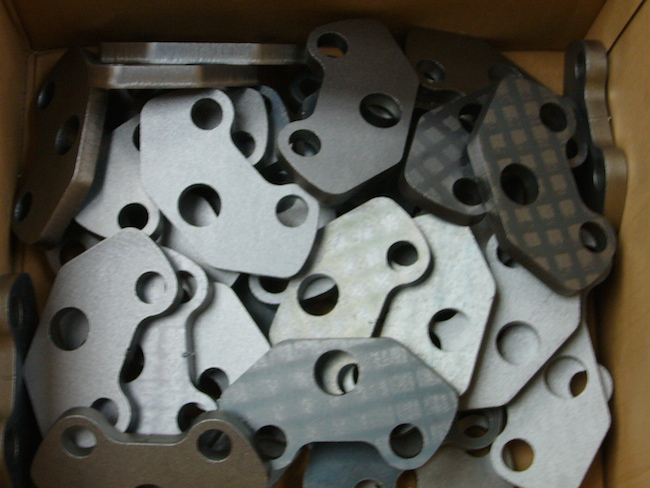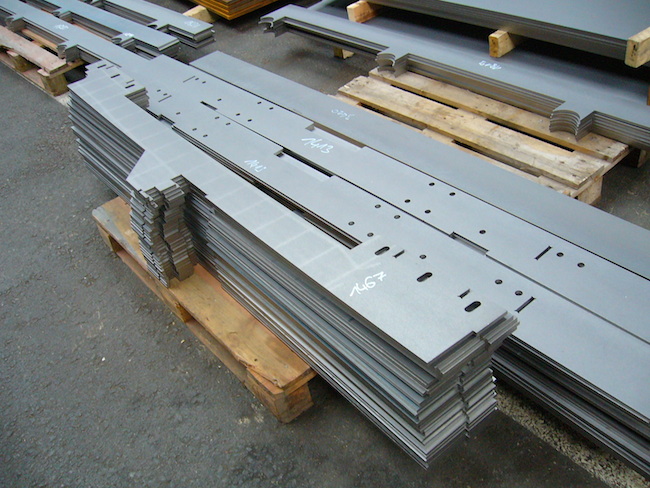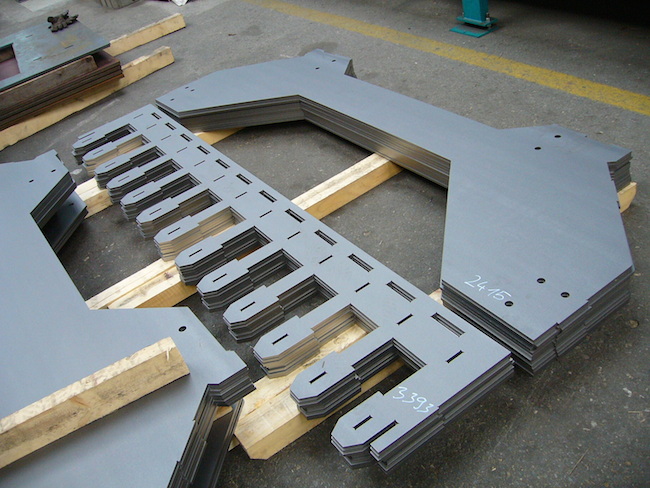 Bending Machines
Bending of pipe walls and pipes.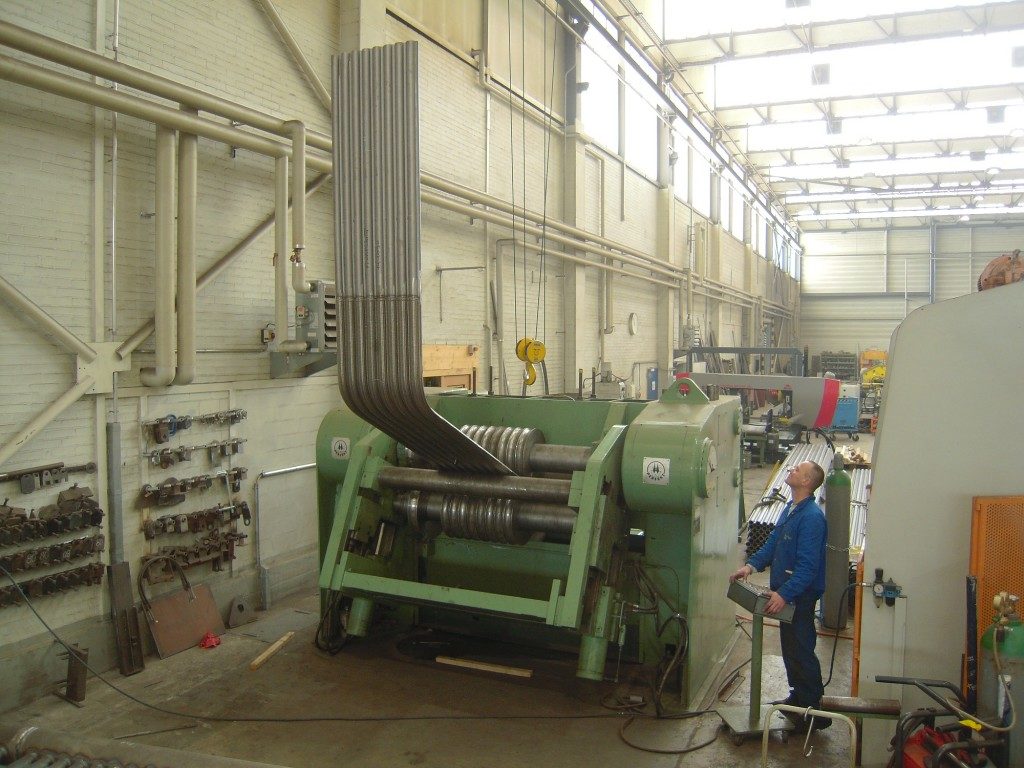 Pipe Wall Bending Machine
The membrane walls (with and without weld cladding) manufactured in our plant can be bent into all established radii.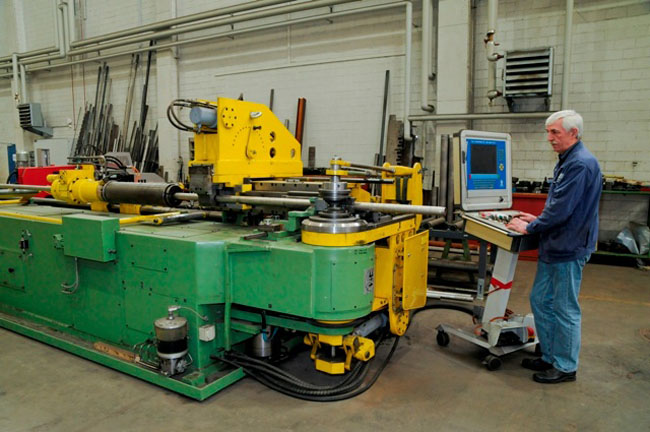 Pipe Bending Maschine
With the fully automated electrohydraulic bending machine, pipes (black or with weld cladding) up to ø 89.0 x 5.0 mm can be bent into many different radii.
Band Saw
Cutting of  membrane walls (with and without cladding).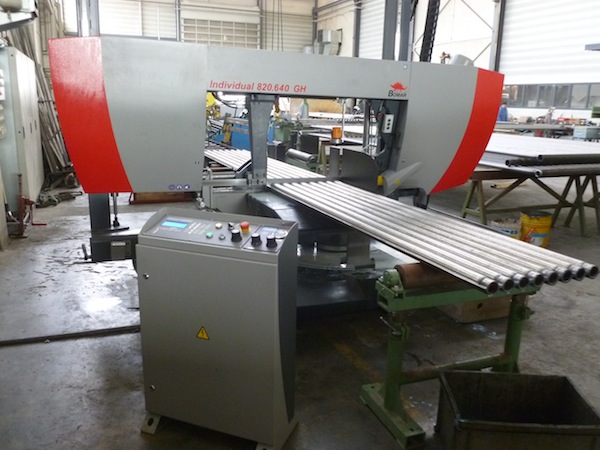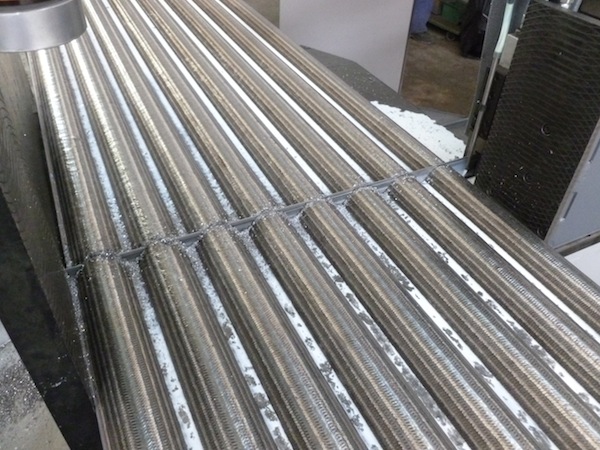 Press Brake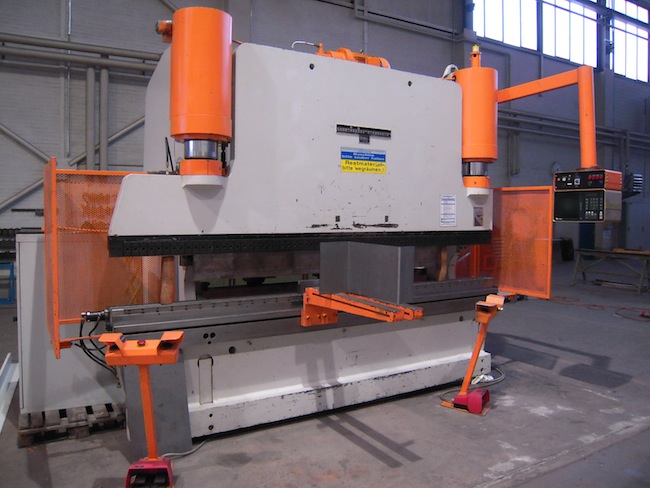 Hydraulic Gantry Press
Biegen von Blechteilen, Verkleidungsteilen und Gehäusen
Specifications
380 Volt
Druckleistung: 250 Tonnen
Abkantlänge 3500 mm, zwischen den Ständern 3650 mm
hydraulische Werkzeugklemmung oben + unten
Matrizenverschiebung